This article of ours is dedicated to the top 10 biggest construction ever made on earth by man, so here we go with the top 10 largest things;
#10 World's Largest Indoor Swimming Pool: 5 Acres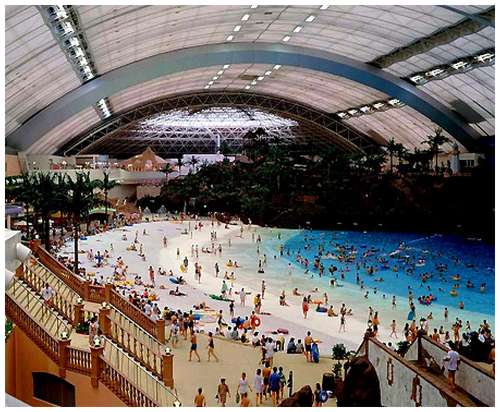 World Waterpark is the world's largest indoor waterpark with a size of five acres. It was made open to public in 1986. It is located in the West Edmonton Mall in Edmonton, Alberta, Canada and has a maximum capacity of 40,000 guests, an average temperature for the water of 30-33 °C (86-89 °F), and its wave pool holds 12.3 million litres. The highest slides in the park are Twister and Cyclone both are 83 feet (25 m) high. Other slides include the beginner slides, intermediate slides, advanced slides, extreme slides and decommissioned slides and also have two hot tubs. The Waterpark is also home to Center of Gravity, the world's tallest indoor bungee jump tower, and the only one over water. Center of Gravity also has an 80 foot rockwall alongside the tower of bungee jumping. It is also the host to two bars: Piña Colada and Beachview Bar which sells out alcoholic beverages and a Coconut Grove, which sells different kinds of food such as hamburgers and French fries. Snacks can be purchased at Beachview Snacks. Hot Dog Hut also sells snacks and of course, hot dogs.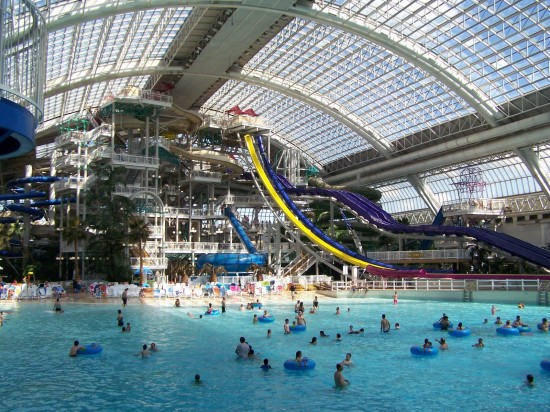 #9 World's Longest Cross Sea Bridge Donghai
Bridge,
China: 32.5 kilometers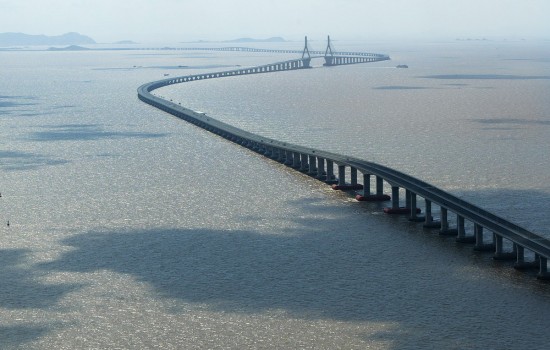 Donghai Bridge also known as East Sea Grand Bridge is the longest cross-sea bridge in the world and the longest bridge in Asia. The construction of bridge was completed on December 10, 2005. It has a total length of 32.5 kilometers (20.2 miles), connecting Shanghai and the water offshore Yangshan port in China. Most of the parts of the bridge are low-level bridge. There are cable stayed to allow large ships to travel easily. The widest span of the bridge is 420 m.
#8 World's Costliest Stadium
New Wembley Stadium, London, England – 90,000 Capacity Cost $1.6 billion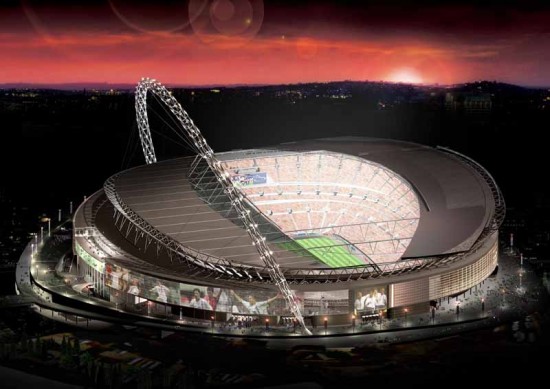 The earlier Wembley stadium, originally known as the Empire Stadium, was often referred to as "The Twin Towers", was one of the world's most famous football stadiums until demolished in 2003. Existing stadium is a rebuilt on the site of previous stadium and was opened in 2007. It is a football stadium located in Wembley Park, in the Borough of Brent, London, England. The construction cost of newly built stadium is$ 1.6 and has a capacity of 90,000. Foster and Partners, Populous (then HOK Sport ), Nathaniel Lichfield and Partners (planning consultants)are the architect of stadium. The iconic arch over the stadium, which has been totally rebuilt and is now one of the most modern and breathtaking arenas in the world. The stadium has a circumference of 1 km, 107 steps in the trophy presentation route – the old stadium had 39 steps. It encloses 4,000,000 m³ inside its walls and under its roof. The new pitch is four metres lower than the previous pitch. Each of the two giant screens in new stadium is the size of 600 domestic television sets The total length of the escalators is the same as a 400 metre running track.
#7 World's Most Expensive Hotel
Burj Al Arab Hotel, Dubai – only 7 Star Hotel in the World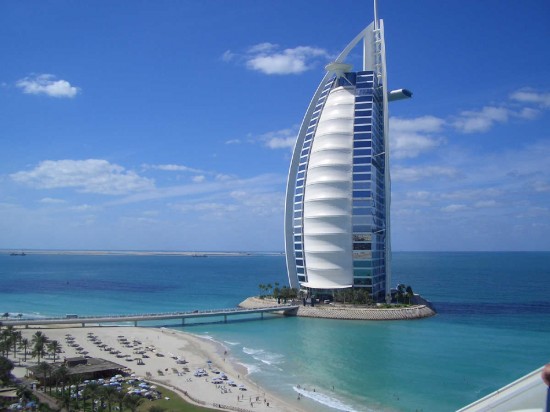 Burj Al Arab has been designed to be the center piece of a large-scale, mixed-use development that would include 30,000 homes, nine hotels, 3 hectares (7.4 acres) of parkland, at least 19 residential towers, the Dubai Mall, and the 12-hectare (30-acre) man-made Burj Khalifa Lake. As Burj Dubai prior to its inauguration, is a skyscraper in Dubai and is currently the tallest structure in the world, at 829.84 m (2,723 ft). Its construction began on 21 September 2004 and was officially opened on 4 January 2010 and is part of the new 2 km2 (490-acre) flagship development called Downtown Dubai at the 'First Interchange' along Sheikh Zayed Road. The tower's architecture and engineering were performed by Skidmore, Owings and Merrill ofChicago, with Adrian Smith and Bill Baker. The primary contractor was Samsung C&T of South Korea. It has 205 Suites One Bedroom Deluxe Suite, Two Bedroom Deluxe Suite, Panoramic Suite, Club Suite, Diplomatic Suite, Presidential Suite, Royal Suite and Royal Deluxe Suite. Restaurants include Al Iwan, Al Mahara, Al Muntaha, Bab Al Yam, Culinary Flight, Juna Lounge, Junsui, Majlis Al Bahar, Sahn Eddar and Skyview Bar . Total floor area is 111,500 m2 (1,200,000 sq ft) and has 70 floors. The total cost for the project was about US$1.5 billion. It costs $150 U.S. just to get in the gate to look at this place!
#6 World's Largest Complex Inter-Change
Interstate 10 Highways Interchange – Houston, Texas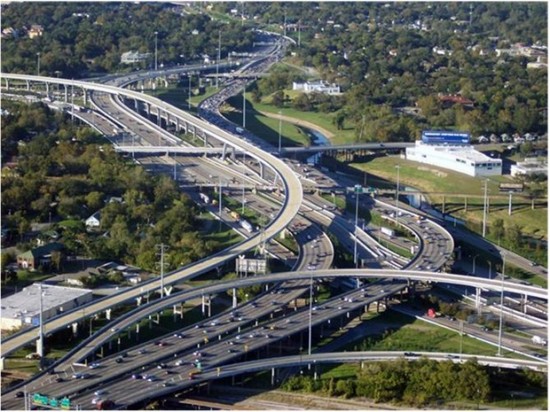 Transcontinental Interstate 10 is the World's Largest Complex Inter-Change which serves the southern tier of the United States by providing the main east-west link from Santa Monica and Greater Los Angeles in the west to Jacksonville in the east. Major cities served by this interchange include Los Angeles, California; Phoenix, Arizona; El Paso, Texas; San Antonio, Texas; Houston, Texas; New Orleans, Louisiana; and Jacksonville, Florida. This route is known as the Christopher Columbus Transcontinental Highway, and is one of three coast- to-coast Interstates (the others being Interstates 80 and 90). Texas alone contains more than a third of the interstate's entire length.
#5 World's Biggest Excavator
Built by KRUPP of Germany 45,500 tons, 95 meters high, 215 meters long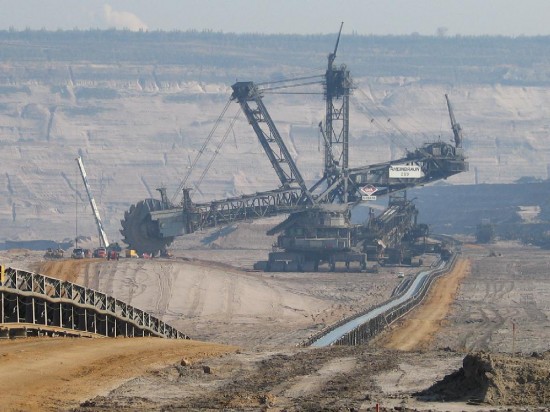 World's biggest excavator, BAGGER 288 is the largest digging machine in the world. It was built by KRUPP of Germany. The machine is 104 yards high and 235 yards long (almost 2.5 football fields in length). Its weight is 45,500 tons (that's equivalent to a bumper to bumper line of jeeps 80 miles long) and it took 5 years to design and manufacture at a cost of $100 million. Its maximum digging speed is 10 meters per minute and can move more than 76,000 cubic meters of coal, rock, and earth per day.
#4 World's Highest Statue
Christ The Redeemer Statue – RIO D.J. Brazil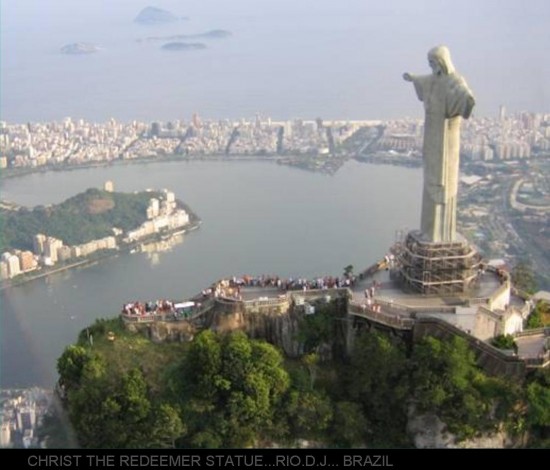 World's highest statue, Christ the Redeemer Statue is located at the top of Corcovado Mountain. The entire monument of statue is 38m high with the statue accounting for 30m and overlooking the city of Rio de Janeiro. Its span is 28m and has a small chapel housed in the base. It was designed by a French sculptor, Paul Landowski and a local engineer Heitor da Silva Costa was chosen as the supervisor of the entire construction. The statue was built from made of 700 tons of reinforced concrete that was considered a more suitable material for the cross shaped statue. The external caps of the idol were constructed in soapstone due to the resistance of this material to the extreme time and also due to its malleability. It was built was to show that Christ loves all. In Portuguese, this iconic monument is known as Cristo Redentor. Its construction began in 1927 and was inaugurated on October 12, 1931.
#3 World's Largest Hotel
MGM Grand Hotel, Las Vegas, Nevada, USA – 6,276 rooms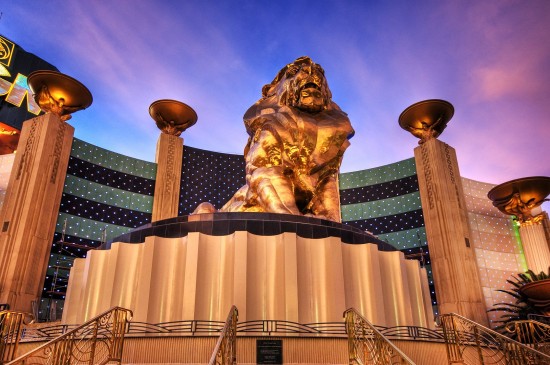 The MGM Grand Las Vegas opened in 1993. It is a hotel casino located on the Las Vegas Strip in Las Vegas, Nevada, United States, as a Hollywood themed resort. The MGM Grand Hotel embodies the spirit of Vegas, complete with posh accommodations, inspiring live shows and nightlife. It is owned and operated by the MGM Mirage company, the 30-floor main building is 293 feet (89 m) high and features five outdoor pools, rivers, and waterfalls that cover 6.6 acres, a 380,000 square foot (35,000 m²) convention center, the MGM Grand Arena, CBS Television City, and the Grand Spa. It also houses numerous shops and night clubs, 16 restaurants, two food courts, and the largest casino in Las Vegas, which occupies 171,500 square feet (16,000 m²). The hotel rooms are located in several buildings including: The world's largest hotel building, with 5,044 rooms (4,293 rooms and 751 suites).
#2 World's Largest Mosques Shah Feisal mosque, Islamabad, Pakistan
35,000 Inside Hall Capacity – 150,000 Outside Overflow Capacity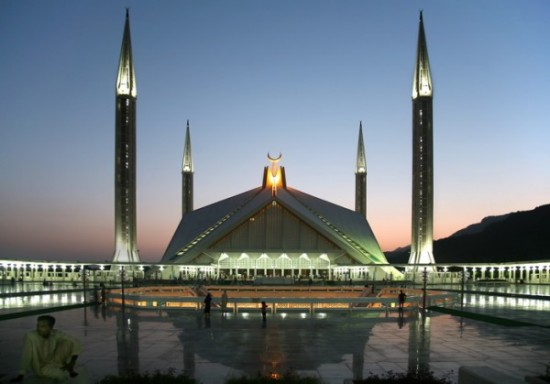 Faisal Mosque in Islamabad is the biggest mosque in south east and southern Asia and the fourth largest mosque in the world. The mosque was completed in 1986. The mosque is located in the capital of Pakistan, Islamabad, situated at the north end of Faisal Avenue, putting it at the northernmost end of the city and at the foot of Margalla Hills, the westernmost foothills of the Himalayas. It was designed by the Turkish architect Vedat Dalokay who won the Aga Khan Architectural Award with this project. It is spread over 1, 89,705-sq. meters with 88 meter high minarets and 40 meter high main prayer hall. It comprises four 88m (288ft) minarets and a desert tent-like structure, which is the main prayer chamber. It has a covered area of 5,000 m2 (54,000 sq ft). It can accommodate 10,000 worshipers in its main prayer hall, 24,000 in its adjoining grounds.
#1 World's Largest Shopping Mall
Gross Leasable Area: 7.1 Million Square Feet
With wind mills, theme parks, and a replica of the Arc de Triomph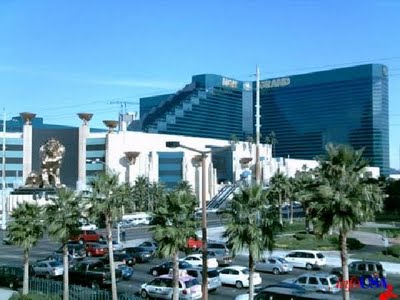 South China Mall, world's largest shopping mall located in Dongguan, China, has a floor area of 430,000 square meters and a building area of 890,000 square meters. It is the largest Shopping mall in the world based on Gross leasable area of 7.1 million square feet with wind mills, theme parks and is a replica of the Arc de Triomph (one of the most famous monuments in Paris). South China Mall has a commercial area of 600,000 square meters, 8,000 parking lots and total investment of RMB 2.5 billion yuan. It was commenced on October 2002. Since its commencement it has been actively responded by a large number of international traders and all walks of life.