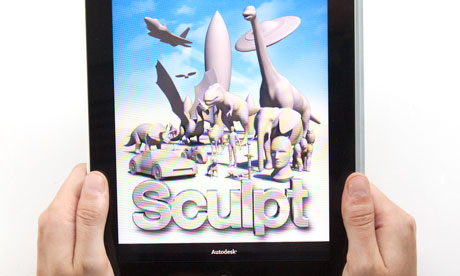 It's easy to forget that when
Apple
's first
iPad
was unveiled in January 2010, there were plenty of cynics questioning the need for a slate-shaped device sitting somewhere between a smartphone and a laptop computer. Microsoft had pitched tablets a decade before, to little interest. So what were iPads for? Scroll on 21 months and a second-generation model later, and we have a better idea: iPads are for lounging on the sofa, browsing, emailing, tweeting and Facebooking, for sure. But they're also for playing games, reading books, discovering music, watching films and TV shows, following recipes, video-chatting with friends and much more. And if iPad has found its multiple roles, the burgeoning number of
apps
available for the device is a key reason.
Two devices loomed large when choosing the 50 apps for this feature: the iPhone and the laptop. A number of these apps are already available on iPhone or as websites, so why would you choose to use them on an iPad instead? Skype, eBay, Amazon, Twitter, Rightmove… all have been redesigned to work well on a touchscreen tablet, and in some cases it feels like the most suitable device to use them on. Context is key. Many iPad users see the device as a more relaxed device than a computer: something to be kept close at hand on the sofa or even in bed, with its instant-on nature.
The iPad isn't the only tablet in town, but for now it's the only one selling in significant numbers. HP recently mothballed its TouchPad tablet just two months after launching it, while Research In Motion is struggling to sell many of its BlackBerry PlayBooks – it shipped just 200,000 in the last financial quarter, versus 9.3m iPads. Tablets running Google's Android software, meanwhile, have not made a big impact. This is likely to change, with Samsung and HTC releasing attractive new tablets, and Amazon rumoured to be working on its own Android device for a pre-Christmas launch. For now, though, the iPad remains the defining device in the tablet market. These 50 apps show why, and hint at the possibilities for devices made by Apple and its rivals in the future.
HOME




SHOPPING



SOCIAL MEDIA




SCIENCE





KIDS




GAMES

There are many wonderful casual games for iPad, but this shows it has hardcore gaming capabilities too. It's a visually impressive driving game with multiplayer and a rich career mode giving it depth.






CULTURE






Already popular on computers, the iPlayer catch-up TV service really comes into its own on the iPad, with a slick tablet interface for browsing and searching for shows, plus full-screen viewing.

Word processing doesn't come much more minimalist than iA Writer, but that's the point. It strips out unnecessary features and gears its entire look and feel towards helping you concentrate on your words.

This is one of the most creative digital artist apps for iPad, with more than 60 virtual brushes to work with. Its key feature is the ability to import your own photos and then paint with their pixels.

As more students get their hands on iPads, so more interesting educational apps will come out. This offers the text of Shakespeare's play, with academic notes and a full animated version to watch too.

Apple's own music app casts its net wide. Professional musicians can use it as a powerful on-the-go recording tool but casual music lovers can take advantage of its "smart" instruments to make a tuneful din too.

MadPad helps you create your own "video soundboards", shooting 12 short video clips at a time and turning them into a digital drumpad. Children, cars and household objects are all fair game, with social features to share your creations.

Now anyone with an iPad and a half-decent music collection can play DJ on their tablet. djay offers a virtual pair of turntables, and it's easy to create and record your own mixes.

Björk's attempt to re-imagine her new album as an app is creative, ambitious and a lot of fun. Individual songs cost £1.49 when bought inside the app, with some taking the form of games while others are musical toys.

Korg's original "virtual analogue beatbox" was a serious music-making app in its own right, used by Damon Albarn when making a Gorillaz album. This re-release includes samples from that to play with.

It's available on iPhone too, but Instapaper comes into its own on a larger screen. The app lets you save online articles and blog posts to read them later, making them available offline too. A commuter's dream.

This is a digital sculpting app: you pinch and rub the screen to mould virtual clay, buying in-app theme packs for 69p each including "Medieval" and "Transportation". A tactile and creative delight.


Papercut is an innovative attempt to find a new format for books that moves away from the idea of turning pages. You scroll through three short stories, with animation, sound and interactivity triggered as you go.

Like Papercut, The History of Jazz is a book-app that ditches the pages metaphor in favour of something more interactive. In this case, it's a timeline of jazz history, armed with biographies and song samples.

Amazon's e-reader app narrowly gets the nod over Apple's own iBooks, with fewer visual frills but a large collection of ebooks, including regular discounts and offers. It also syncs your reading position across different devices.

Zinio is a magazine store and reader app with a wide catalogue of publications available, from sport and politics through to music and lifestyle. You can choose to buy single issues or full subscriptions.

Published by computer graphics veteran Autodesk, SketchBook has quickly found a wide audience of casual scribblers and professional artists alike. More than 60 digital brushes are included, plus an intuitive interface